About
CUGATE Classics is a classical music label, which has its origin in the early Nineties of the last century. In the aftermath of the Glasnost era well-known German music producer Memo Rhein started with his partner Iris Mazur a series of recordings of classical music in St.Petersburg, Moscow, Novosibirsk, Lithuania and Tbilisi (Georgia) to support a cultural exchange on eyesight level. It ended up with more than 300 album programs – all recorded in high definition 24 bit / 96 khz – pioneering new recordings standards, licensed to and intended to be released by SONY CLASSICAL
The material includes both mainstream and rarely recorded symphonic and chamber music as well as choral and ethnic works not focussing only on Russian music but also on a variety of well known international classical masterpieces.
Most of the recorded music has never been released since Memo dedicated all his efforts to build up his CuGate Media Group, focussing on technical features such as anti piracy software and a comprehensive 4k Ultra High Definition video development.
But after having met by coincidence former Sony Classical manager Elmar Lindemann, who together with Memo had started the Russian music expedition in its founding period, both of them decided to have a profound relaunch of the complete archive material.
The entire material is unified by an outstanding recording quality – the sound is superb as one can expect from state of the art 24 bit / 96 khz recording technology. The technical excellence is enhanced by the mastering professionalism of the Berlin b-sharp studio, which made itself a name in winning two American Grammy awards and six German Classical Echoes.
Also b-sharp is starting their own label under the roof of CuGate Classics.
Releases
Vakhtang Kakhidze: Piano Concerto, Amazons Suite, Conjugations (CGC 043-2)
---
Robert Schumann: Toccata, Op. 7 Kinderszenen, Op. 15 | Carnaval, Op.9 | Revaz Lagidze: Rondo Toccata (CGC 042-2)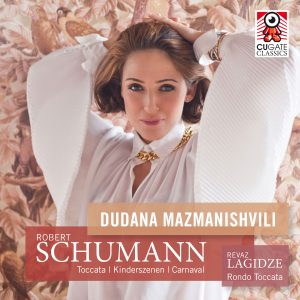 ---
Djansug Kakhidze – The Legacy Vol.9 (CGC 037-2)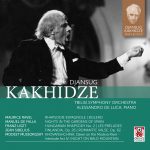 ---
Djansug Kakhidze – The Legacy Vol.8 (CGC 036-2)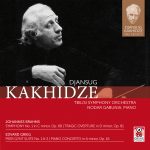 ---
Djansug Kakhidze – The Legacy Vol.7 (CGC 035-2)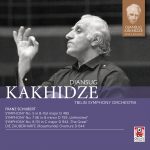 ---
Djansug Kakhidze – The Legacy Vol.6 (CGC 034-2)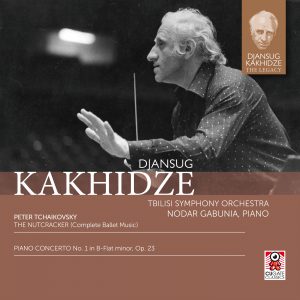 ---
Rodion Shchedrin: Carmen Suite (after Georges Bizet) | Arnold Schoenberg: Verklaerte Nacht, Op. 4  (CGC 032-2)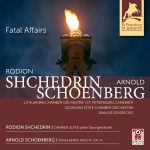 ---
Mikhail Glinka: Waltz Fantasy, Kamarinskaya, Divertimenti on a theme by Bellini, Grand Sextuor (CGC 031-2)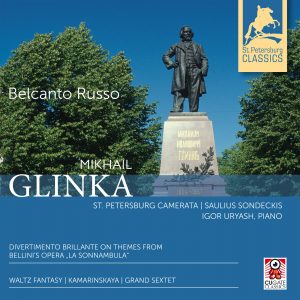 ---
Bohemian Rhapsody
Anton Dvorak: Cello Concerto in B minor, op.104 | From the Bohemian Forest, Silent Woods, op. 68/5 | Rondo in G minor, op.94 | Polonaise (CGC 029-2)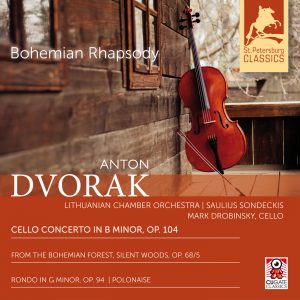 ---
Norwegian Wood
Edvard Grieg: From Holberg's Time, op. 40 | Two Nordic Melodies for String Orchestra, op.63 | Two Melodies for String Orchestra, op. 53 | Two Lyric Pieces for String Orchestra, op. 68 | Two Elegiac Melodies, op.34 (CGC 028-2)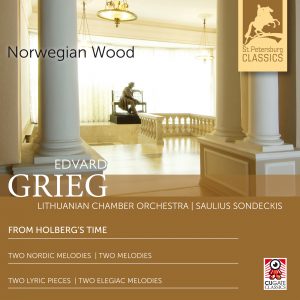 ---
Vakhtang Kakhidze: Christmas Trilogy Moon Dances (CGC 027-2)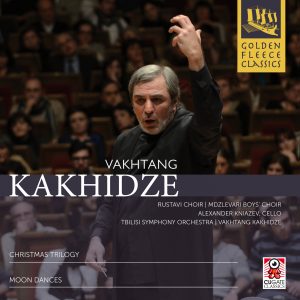 ---
From the Movies
Dmitri Shostakovich: The Gadfly Suite, Op. 97A | Georgy Sviridov: Snowstorm (CGC 026-2)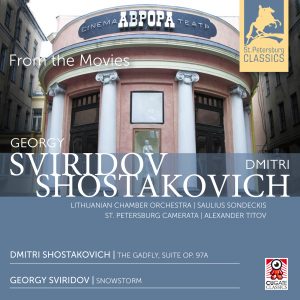 ---
In Memoriam Saulius Sondeckis
Dmitri Shostakovich: Hamlet Suite, Op. 116A Concerto for Trumpet, PianoOrchestra, Op.35 Quartett No. 8, Op.110 (CGC 025-2)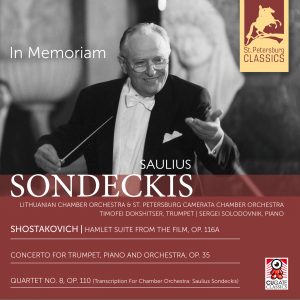 ---
Fairytale MusicRimsky-Korsakov: Sheherazade – Symphonic Suite Op.35 The GoldenCockerel – Suite from the Opera (CGC 024-2)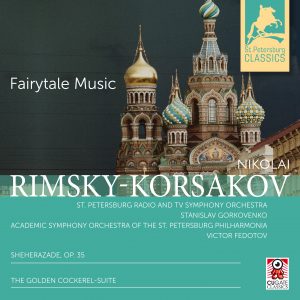 ---
National GeographicsSmetana: Má Vlast (CGC 023-2)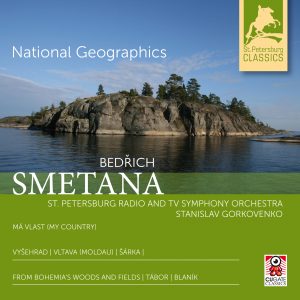 ---
Caucasian Impressions
Sulkhan Tsindsadze: Quartet No. 10 (poliphonical) Miniatures for String Quartet | Nodar Gabunia: Quartet No.2 (CGC 022-2)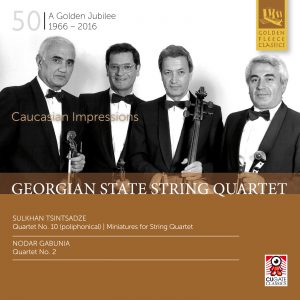 ---
Babi Yar
Dmitri Shostakovich: Symphony No. 13 in B flat minor Op. 113 "Babi Yar" (CGC 021-2)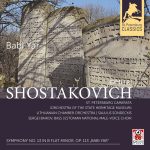 ---
Barber: Adagio for Strings, Op. 11 | Bruckner: String Quintet in F (CGC 013-2)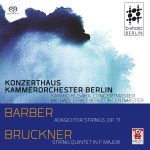 ---
Bartok: Divertimento for String Orchestra, Sz. 113 | Romanian Folk Dances, SZ. 56 Piazzolla: Las Cuatro Estaciones Porteñas (CGC 012-2)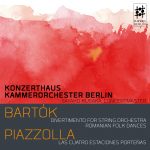 ---
Schubert: String Quartet No.14 in D minor, D.810 | Shostakovich: Chamber Symphony, Op.110A (CGC 011-2)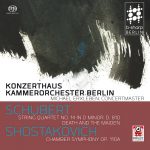 ---
Made in Germany
Sergei Rachmaninov: Symphony No. 2 in E minor, op. 27 The Rock, Symphonic Poem op. 7 (CGC 010-2)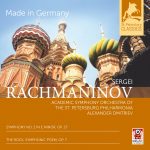 ---
String QuartetsPeter Tchaikovsky: String Quartet No. 1 in D minor, op. 11 | String Quartet No. 3 in E flat minor, op. 30 (CGC 009-2)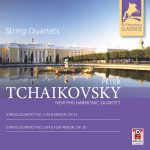 ---
Rebirth of Bizet's Carmen Suite (CGC 008-2)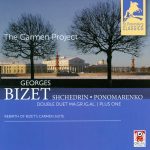 ---
Dmitri Shostakovich: String Quartets (CGC 007-2)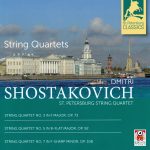 ---
Sergei Prokofiev: Back in the USSR (CGC 006-2)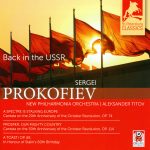 ---
Djansug Kakhidze – The Legacy Vol. 5 (CGC 005-2)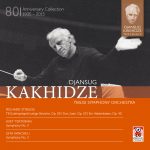 ---
Djansug Kakhidze – The Legacy Vol. 4 (CGC 004-2)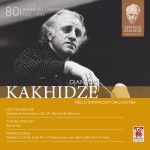 ---
Djansug Kakhidze – The Legacy Vol. 3 (CGC 003-2)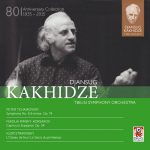 ---
Djansug Kakhidze – The Legacy Vol. 2 (CGC 002-2)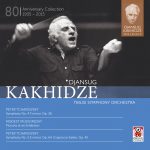 ---
Djansug Kakhidze – The Legacy Vol. 1 (CGC 001-2)
Contact
For further information regarding our catalogue, artists an cooperations refer to: