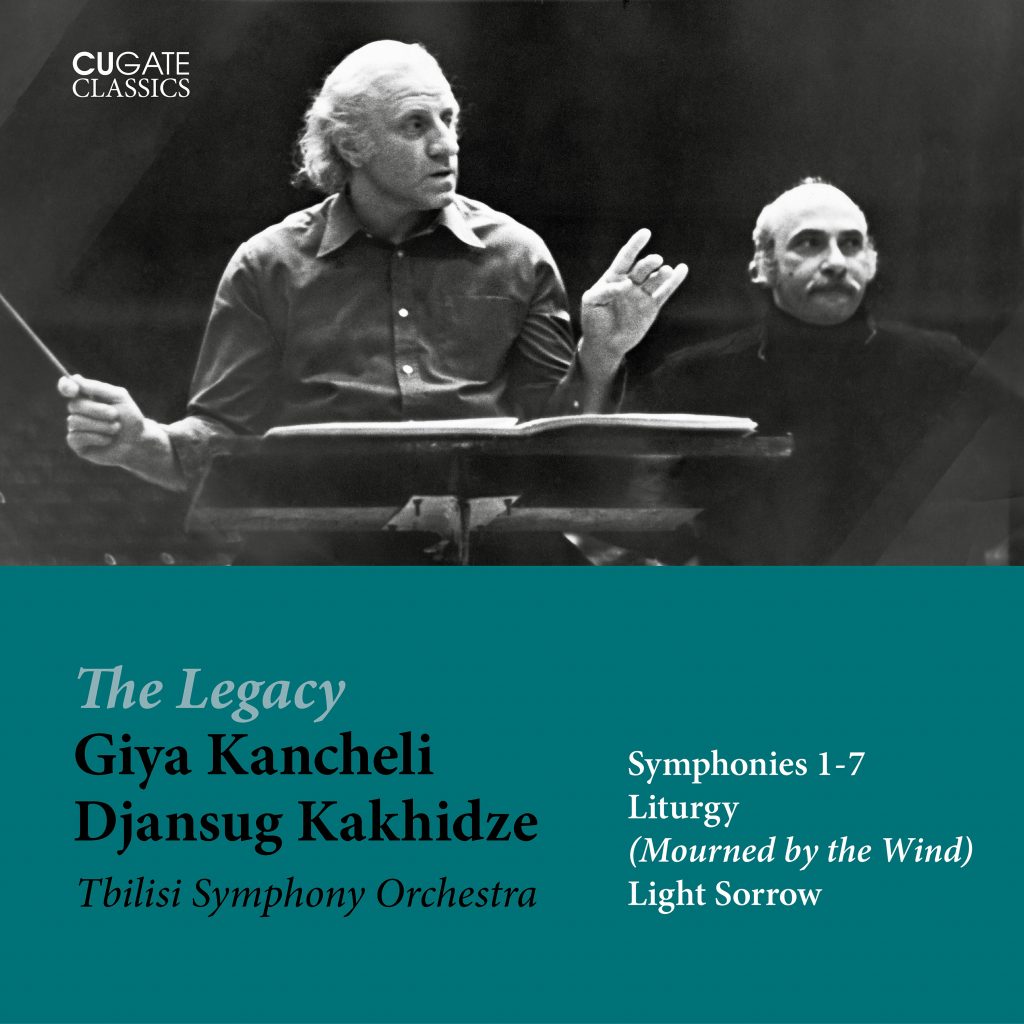 Giya Kancheli / Djansug Kakhidze:


Symphonies 1-7 / Liturgy (Mourned By The Wind) / Light Sorrow
Release date: October 2, 2020

"A magnificent monument to his life and work." – GRAMOPHONE EDITOR'S CHOICE
CUGATE CLASSICS is pleased to release the complete symphonic works of the Georgian composer GIYA KANCHELI plus "Light Sorrow" and "Mourned By The Wind", all in newly remastered versions. Conducted by DJANSUG KAKHIDZE.
GIYA KANCHELI (1935 – 2019) was and still is the best-known Georgian composer, celebrated for his mastery of silence and his (deceptive) simplicity. KANCHELI's career as classical composer started in the 1960s after first attempts with chansons and popular songs, his first symphony was accomplished and premiered in 1967 in Tbilisi, conducted by DJANSUG KAKHIDZE. Actually, as KANCHELI emphasized repeatedly, many of his works were composed assuming that his close and lifelong friend KHAKIDZE will conduct them.
In total, KANCHELI composed seven symphonies, the opera "Music For The Living", the liturgy "Mourned By The Wind", "Light Sorrow", music for films and theater plays and a number of chamber works like "In l'istesso tempo" (1997) or "Chiaroscuro" (2010), released on ECM and interpreted by GIDON KREMER. KANCHELI's compositonal approach is deeply rooted in the music of his Georgian origin and blends modern elements with a beautiful but deceptive simplicity, a melancholic tone and a captivating silence – qualities he shares with the great ARVO PÄRT. But KANCHELI developed his own musical idiom, and his death on October 2nd 2019 is a great loss for the world of classical music.
Under the direction of MEMO RHEIN, a lontime friend of KANCHELI's and founder of CUGATE CLASSICS, the remastering of the symphonic works have been realized when KANCHELI was still alive. CUGATE CLASSICS honours the great Georgian composer with a selected CD program: all seven symphionies plus "Light Sorrow" and "Mourned By The Wind", all in newly remastered versions and conducted by the critically acclaimed and award-winning DJANSUG KAKHIDZE.
Available as a box set or individual CDs.
Shop
Press:
"A magnificent monument to his life and work." – GRAMOPHONE EDITOR'S CHOICE
"… a great musician of the modern age …"   Rodion Shchedrin
" … the biggest philosopher among today's composers …"   Fono