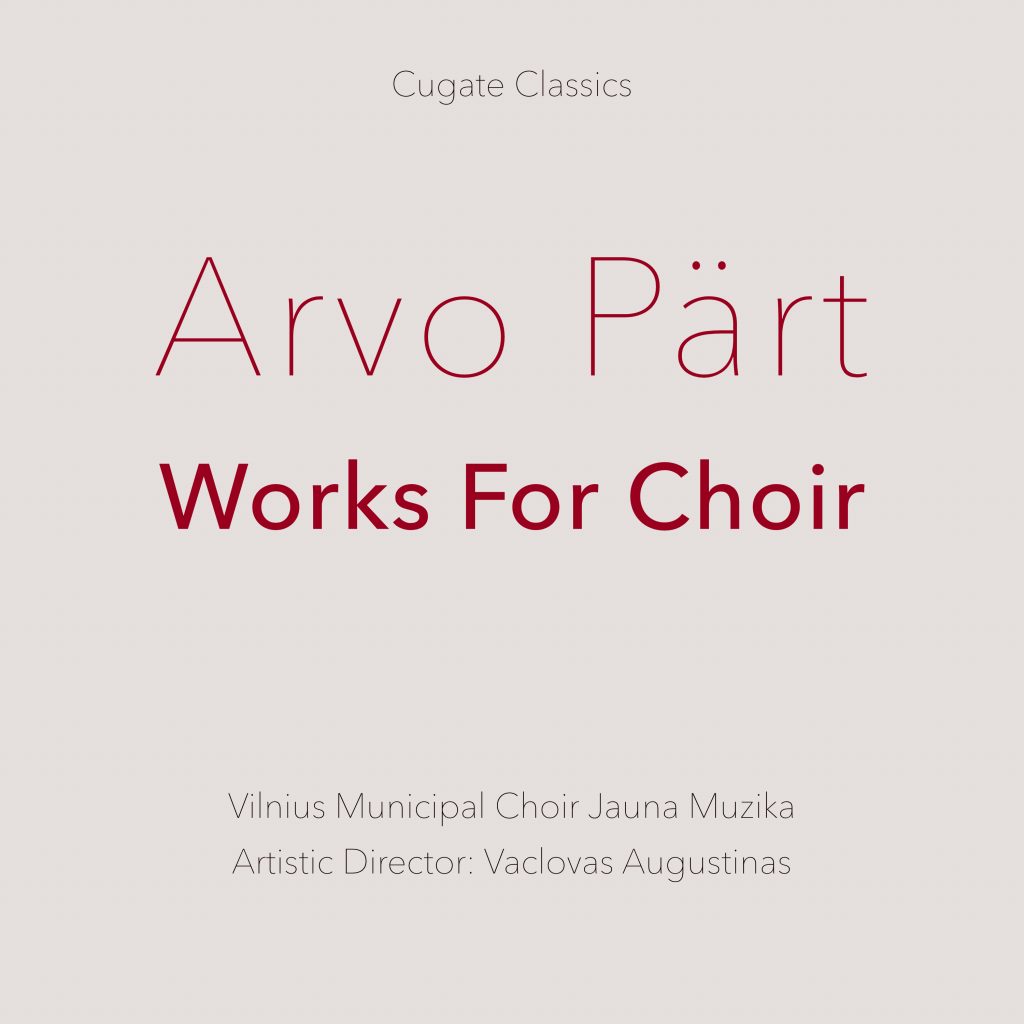 Facts & Figures
CUGATE CLASSICS proudly presents: "Works For Choir" by ARVO PÄRT, one of the most important and influential composers of our time. Remastered by HELMUT ERLER at D&M Berlin and available as 180gr LP, CD and DL.ARVO PÄRT (born 1935 in Paide, Estonia) doesn't need to be introduced to anyone who has the slightest interest in classical music, and his audience reaches far beyond the regular attendants of symphony halls. After first serialistic compositions, "Credo" (1968) was a turning point in PÄRT's life and work, being the first piece carrying a religious title and expressing a creative crisis that PÄRT answered by lesser compositions and studying medieval and Renaissance music in search for a new musical language. In 1976 PÄRT returned with "Für Alina" and introduced his new (and self-developed) style that should become his trademark sound which made him the famous and honoured composer he is now: the so-called tintinnabuli. In 1984, after the Estonian composer and his family emigrated from the USSR and settled in Germany, the album "Tabula rasa" opened the next important chapter in PÄRT's career: the ever continuing close relation to Manfred EICHER and his ECM label where many of the composer's works have been released since.
"Works For Choir" presents several compositions for choir from the period from 1989 to 1991, recorded in Vilnius with the aweard winning Vilnius Municipal Choir Jauna Muzika under the artistic direction of Vaclovas Augustinas. For this reissue, all tracks have been remastered at D&M Berlin for best possible sound.
Tracklist:
1 The Beatitudes 6:37
2 Nun Eile Ich Zu Euch…7:08
3 Magnificat 5:23
4 Summa 5:44
Sieben Magnificat – Antiphonen
5 O Weisibett 2:01
6 O Adonai 3:00
7 O Sproß Aus Isais Wurzel1:33
8 O Schlüssel Davids 2:41
9 O Morgenstern 1:12
10 O König Aller Völker 1:26
11 O Immanuel 3:39
Available on CD and 180g Vinyl gatefold sleeve.
Shop
Press:
"Works for Choir is a strong collection that scratches roughly the same itch as a Bach mass or the better work from Pärt's fellow holy/mystic minimalists like Tavener or Górecki." Brainwashed"Eine ganz besondere Leistung" Amusio
"Hier passt alles: hervorragende Kompositionen, spannende Arrangements, ein wirklich phantastischer Chor unter einer starken Leitung und ein grandioser Klang der Aufnahme." Musikansich.de

"Man erlebt vielmehr eine strenge spirituelle Ruhe, die harmonisch wirkt, selbst da, wo Pärt Dissonanzen eingebaut hat. Ganz sicher ist dieser Zugang zu religiösen Themen von der Tradition der frühen mehrstimmigen geistlichen Musik geprägt. Vom Avantgarde-Gedanken hat sich Pärt eindeutig verabschiedet. Historisch hatte sich die Avantgarde als Paradigma damals aber ohnehin weitgehend erledigt. Man hört in diesen Stücken allerdings auch anderes als die "westliche" sakrale Tradition. In den teils einminütigen "Sieben Magnificat-Antiphonen" nach den sogenannten "O-Antiphonen" der katholischen Liturgie, mit denen die Schallplatte schließt, kommen hier und da rauere Töne ins Spiel." taz, die tageszeitung
"It's difficult to overstate the genius of Arvo Pärt – this re-release is very much in keeping with one of the great bodies of work available to new music lovers." themoderns