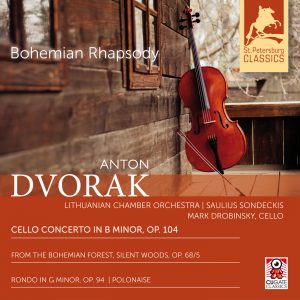 Facts & Figures
Antonin Dvorak composed his Concerto in B minor between 1894 and 1895 during his obligation as professor at the New York Conservatory. Hanuš Wihan, cellist of the Bohemian String Quartet had already asked him some time before to compose a concerto for his instrument, but Dvořák initially was rather reluctant to this idea.
There had been some good reason so far for Dvorak's former restraint since the alleged difficulties to write for cello and orchestra did the round in composer's circles. Johannes Brahms proved this when he praised his colleague and friend Dvorak after having read through the score: "Why didn't I know before how to write a cello concerto like this? If I had known I had written one myself long time ago.
" The Concerto is a big work, full of enchanting melodies and highly virtuoso parts integrated into well-spaced movements. But the grandeur of the cast hides a very touching personal note, which goes back to the time when he started with the composition. His sister-in-law Josefina Kaunic once had refused Dvorak's proposal of marriage. After her death – Dvorak, who was at that time anyway not quite satisfied with the ending of his work – he revised the coda of the last movement. In commemoration of Josefina he replaced the originally more optimistic part of the final by incorporating one of his earlier songs which had belonged to Josefina's favourites. In a kind of synthesis he merged the main theme of the first movement and the tune of his song "Leave me alone" into a final reminiscence of his relative.
Except the Rondo in G minor op. 94 all the other of Dvorak's cello pieces, including Silent Woods, are arrangements of music originally composed for other instruments. But it is true that today the version for cello and orchestra (or cello and piano) is better known than its original for piano duet. Dvorak composed his piano duets "From the Bohemian Forest", in 1883-1884. Ten years later he selected the fifth track of that cycle and transcribed it as a version for cello and piano. This arrangement became very popular, so another year later Dvorak made a new arrangement for cello and orchestra. Here it reveals the virtues of the cello as a versatile melody instrument, giving sonority of sound to cantilenas and tunes while at the same time remaining substantial part of the string family.
When Dvorak had been touring Bohemia with the Wihan he was realising that there was no significant solo piece for the cello existing. So he wrote one himself for piano and cello. Later he also made an orchestral version that extends the work with extra color and tension.
The Polonaise was also originally written for cello and piano. This time the dedicatee was the cellist Alois Neruda. The score of the orchestral version was only discovered in Vienna in 1925. It is a charming piece following the traditional polonaise dance style.
The present release comes from the 24 bit /96 khz state-of-the-at recordings out of the CuGate Classics archive. They are carefully remastered by the prestigious Grammy award-winning b-sharp studio Berlin using the original source material. Liner notes in English.
Saulius Sondeckis was one of the most versatile musicians of the former Soviet Union. As an educated violinist, conductor, orchestra leader and teacher he shaped generations of musicians, both instrumentalists and vocalists. Born on 11 October 1928 in Šiauliai (Lithuania) he studied violin at the Lithuanian Academy of Music and Theatre with Professor Alexandras Livontas. As this teacher was a student of David Oistrakh, Sondeckis himself might be called a "musical grandson" of the famous Russian violinist. After his graduation and stages as teacher at the Juozas-Tallat-Kelpša Conservatory and the National Mikalojus-Konstantinas-Ciurlionis School of Arts in Vilnius he successfully completed his studies at the Moscow Conservatory. In 1960 he founded the Lithuanian Chamber Orchestra and worked there as artistic director and principal conductor until 2004. From 1963, he continued his education, studying conducting with Igor Markevich at the Moscow Conservatory. In 1977 he became professor at the Vilnius Conservatory. As of 1989 he was conducting the St. Petersburg State Hermitage (Camerata) and from 2005 the Kremerata Baltica Chamber Orchestra. Sondeckis was a member of the Herbert von Karajan Foundation in Berlin and was a coveted juror at many major international competitions, including Mozart in Salzburg, Tchaikovsky in Moscow and Toscanini in Parma. A honorary member of the Lithuanian Musicians' Union he is one of the most decorated characters in contemporary classical music in Lithuania, including People's Artist of the USSR (1980), Laureate of the USSR State Award (1987) and winner of the Lithuania National Award (1999). He died on 3 February 2016 in Vilnius.
Mark Drobisnky was born in Baku, Aserbeijian. He studied with Mstislav Rostropovich at the Tchaikovsky Conservatory Conservatory in Moscow and was later awarded the first prize at the International Competition of Munich. He taught at the Gnessine Institute and left the USSR in 1974 to go to Israel before finally setting down in Paris. He has been a guest performer at the most prestigious festivals. Sofia Gubaidulina once responded about his creativity as a musician: "I think Mark Drobinsky to be one of the best representatives of Russian violoncello school. He possesses not only a noble and powerful sound, but also owns in perfection all secrets and nuances of harmony. Magnificent feeling of the form is perfectly combined with sincerity of performance."