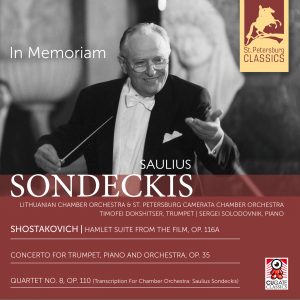 Facts & Figures
This album comes In Memoriam of Saulius Sondeckis, who was one of the figureheads of the former Soviet Union chamber music scene. In commemoration of this great musician it gives a summary of his famous readings of Shostakovich's chamber music, whereas at the same time it offers rarely played repertoire gems such as the film music to Hamlet and gives credit to another late outstanding soloist, the famous Bolshoi trumpet player Timofei Dokshitser. Last but not least it provides evidence on Sondecki's capability as an arranger, transferring small ensemble music into the sonic language of a chamber orchestra.
Hamlet. In the 19th century William Shakespeare attained honours in Russian literary circles as a generic dramatist, whose works were looked upon as a conceivable model for the country's own theatrical evolution. So it was only a matter of time before Shostakovich as a versatile dramatic composer also felt attracted by the masterly English playwright. The first version of Hamlet was composed for Nikolai Akimov's stage production in 1932. After the war they continued their collaboration, and released Hamlet in 1964 based on the original incidental music of 1932. Our album presents the eight movements Suite which Shostakovich's friend Lev Atovmian arranged with the approval of the composer. This condensed version is very effective, painting vivid pictures of the protagonists and the scenes.
The Concerto no. 1 for Piano, Trumpet and Orchestra was called by Shostakovich himself a "mocking challenge to the conservative-serious character of the classical concert attitude." It is an overwhelming lot of ideas which are put together to a kind of kaleidoscope. One can identify a theme from Haydn, there is virtuoso piano playing with reminiscences of Liszt, Beethoven is present, Grieg seems to appear and even Hindemith leaves a trace by a foxtrot citation – in short: it is a bunch of musical flowers watered by irony.
Shostakovich himself was convinced, that his String Quartet No. 8 was well adapted for an orchestral transcription. The first one for string orchestra was done by Rudolf Barshai, which is known as Chamber Symphony, Op. 110a the composer gave his blessings to. The version on this album however was arranged by Saulius Sondeckis for the St. Petersburg Camerata, adding timpani to the string section grounding the work with some sinster colours.
The present release comes from the 24 bit /96 khz state-of-theart recordings out of the CuGate Classics archive. They are carefully remastered by the prestigious Grammy award-winning b-sharp studio Berlin using the original source material. Liner notes in English.
Saulius Sondeckis was one of the most versatile musicians of the former Soviet Union. As an educated violinist, conductor, orchestra leader and teacher he shaped generations of musicians, both instrumentalists and vocalists. Born on 11 October 1928 in Šiauliai (Lithuania) he studied violin at the Lithuanian Academy of Music and Theatre with Professor Alexandras Livontas. As this teacher was a student of David Oistrakh, Sondeckis himself might be called a "musical grandson" of the famous Russian violinist. After his graduation and stages as teacher at the Juozas-Tallat-Kelpša Conservatory and the National Mikalojus-Konstantinas-Ciurlionis School of Arts in Vilnius he successfully completed his studies at the Moscow Conservatory by distant learning. In 1960 he founded the Lithuanian Chamber Orchestra and worked there as artistic director and principal conductor until 2004. From 1963, he continued his education, studying conducting and sitting in courses amongst others with Igor Markevich at the Moscow Conservatory. Starting 1977 he became professor at the Vilnius Conservatory, where he already held a chair at the department of string instruments. As of 1989 he was conducting the St. Petersburg State Hermitage (Camerata) and from 2005 the Kremerata Baltica Chamber Orchestra.
Sondeckis was a member of the Herbert von Karajan Foundation in Berlin and was a coveted juror at many major international competitions, including Mozart in Salzburg, Tchaikovsky in Moscow and Toscanini in Parma. As guest conductor he was invited by many distinguished European orchestras and festivals.
A honorary member of the Lithuanian Musicians' Union he is one of the most decorated characters in contemporary classical music in Lithuania, including People's Artist of the USSR (1980), a Laureate of the USSR State Award (1987) and winner of the Lithuania National Award (1999). He died on 3 February 2016 in Vilnius where he is buried in the Antalkalnis Cemetery.