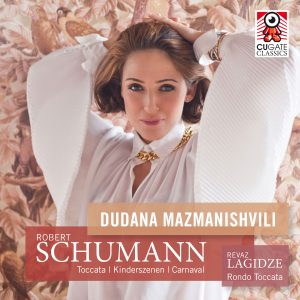 Facts & Figures
This Schumann album marks the collaboration between CuGate Classics and Georgian pianist Dudana Mazmanishvili. It contains a tremendous reading of the "unplayable" Toccata and well-considered examinations of two further romantic masterpieces by Schumann. The album closes with a world premiere recording: Lagidzes Rondo Toccata, which builds a highly virtuoso bridge to the Schumann Toccata, sprinkling some Georgian spice over the German romantic repertoire. Some excerpts of an interview with Dudana Mazmanishvili from the liner notes:
CUGATE Classics: "Dudana, you are just recording an album with piano music by Robert Schumann. Schumann is generally believed to be the founding father of the Golden Age of Romantic piano music. Is that true or were the changes after Beethoven and Schubert just in the air? One could think of Mendelssohn (1809 – 1847) and Chopin (1810 – 1849), both of them born at the same time, just like Schumann (1810 – 1856). All three have in common that they perfected their craft early, and they also died young at nearly the same time.
Mazmanishvili: Indeed, it is amazing, how such things are evolving. But it is not only the Romantic period where we can observe such coincidences. Have a look at the Baroque, where Bach, Handel and Scarlatti were also born in the same year. Sometimes it appears just as if history would repeat itself. Also, in my view, those ages have a great deal in common. Schumann's music is full of Bach's heritage – you will find clear structures there, often enough heralding romantic harmonies and also lots of polyphony. That's what constitutes Schumann's music as well, and as I аm very keen on playing Bach, this connection means a lot to me.
CUGATE Classics: In this time a completely new style in piano playing came up. Mazmanishvili: Yes, one must see this development in close conjunction with the piano recitals, which came into vogue then. Franz Liszt was a great promoter of this new concert format. The same applies to Clara Wieck, Schumann's wife, who was an extraordinary pianist as well, and her numerous concert tours certainly helped to make this new emerging musical performance popular. We know that Schumann was at daggers drawn with his manual capabilities, always in direct competition with Clara, and he brought this issue to a head by his Toccata, which our album starts with. CuGate Classics: Which is regarded as one of the heaviest pieces of the piano literature.
Mazmanishvili: Definitely, it is. The challenges are really extreme. The whole piece must flow seamlessly and at the same time constantly keep rhythm. But beforehand, you have to cope with technical nastinesses such as extreme double stops of the right hand, which are hard attacks on both the little and the ring finger. It was a kind of experiment to attain the virtually unattainable – the fundamental idea of the Romantic.
CUGATE Classics: As a suspenseful contrast at the finale of the album's program you choose, almost like a hidden pop track, a piece of your Georgian compatriot Revaz Lagidze – called Rondo Toccata. The level of difficulty is also extreme. Besides the name, are there any other similarities?Mazmanishvili: Schumann and Lagidze are principally using the same basic structure. Formally, Schumann takes advantage of the sonata form and Lagidze goes for the rondo, so both of them draw on classical patterns. And last but not least, Rondo Toccata is a smashing piece of music, pianistic in the best sense, too good to only be seen as just an encore showcase. This is why I felt it is worthy to be brought here for the first time on CD.
Recorded and mastered at the prestigious Grammy award-winning b-sharp studio Berlin Liner notes in English and German.
Dudana Mazmanishvili, born 1980 in Tbilisi, received at the age of 3 her first piano instructions from her mother, pianist Tamar Apakidze. Already at 8 years old she debuted with the Georgian National Orchestra. In 1998 Elisso Virsaladze brought Dudana Mazmanishvili to Munich. In 2005 she was perfecting herself in New York with Jerome Rose. Dudana Mazmanishvili has immortalized herself at numerous international piano competitions as award winner in the winner lists: for example at the Busoni Competition in Bozen, Washington International Piano Competition, Nicolai Rubinstein Competition Paris, Nadia Reisenberg Award New York and August Everding Competition Munich. In 2006 Dudana Mazmanishvili debuted at Carnegie Hall. Harris Goldsmith celebrated her in his concert critic as the discovery of the year. In "Musical America" she was selected "Rising Star of the Year." Among the highlights in her career are performances in the Philips Collection Washington, Munich Residenz, Salle Cortot in Paris, Musikverein in Vienna and Konzerthaus Berlin. Dudana Mazmanishvili is sharing her pianistic career with her mission as cultural attachée at the Georgian Embassy in Berlin, promoting the Georgian culture and awakening attention for a place with rich historic roots at the edge of Orient and Occident.