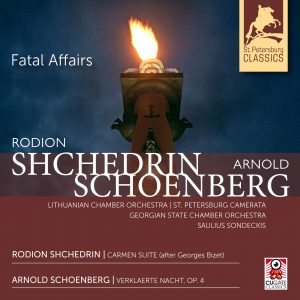 Facts & Figures
Sequel of the series with Saulius Sondeckis from the CuGate archives.
Authentic reading of Shchedrins Ballet Suite, based on Bizet's Carmen, with spectacular percussion solos in high definition recording technology.
Schoenbergs Verklaerte Nacht (Transfigured Night) comes here in the version for chamber orchestra with an outstanding sonorous sound.
It is not only poets who are attracted by the shady sides of human coexistence, particularly in gender relations, but also and especially composers are looking for subjects in this field, where they can use the different facets of music in order to give characters an additional profile, unveil emotional states and create atmospheres of passion, using the power of melodies and harmonies, rhythm and dynamics.
Two prominent proofs are combined on this album developed from drama and lyric poetry.
For the first one, CARMEN SUITE, Rodion Shchedrin transcribed fragments from Bizet's opera for his wife Bolshoi primaballerina Maya Plisetskaya. The composer limited the orchestra to strings and percussion for two reasons: the strings compensate for the lack of human voices, and the percussion instruments underscore the choreography. The suite is made up of 13 parts and includes 15 of Bizet's themes. In the score Shchedrin achieves this remarkable dramatic effect not only thanks to the contraposition of strings and drums, but also because of the multicolored personalities of the drums themselves.
Arnold Schoenberg wrote his string sextet "Verklärte Nacht" (Transfigured Night) on a poem by Richard Dehmel, who was regarded as one of the most famous German lyricists. It is a contribution to the genre of program music, describing the five stenza contents, which is about a man and a women on a walk in the forest. Both love each other but she confesses she is expecting a child from another man. He eventually promises to take this child as his own.
In 1943 Schoenberg revised the sextet version and rearranged it for chamber orchestra including double basses, which he already had incorporated into a first revision in 1917. He himself described the main changes for the actual one: "The new version will improve the balance between both the first and second violins and violas and celli, thus keeping the balance of the original sextet version by six equal instruments." It is this version, which is documented on our album.
The present release comes from the 24 bit /96 khz state-of-the-at recordings out of the CUGATE Classics archive. They are carefully remastered by the prestigious Grammy award-winning b-sharp studio Berlin using the original source material.
Liner notes in English.
Saulius Sondeckis was one of the most versatile musicians of the former Soviet Union. As an educated violinist, conductor, orchestra leader and teacher he shaped generations of musicians, both instrumentalists and vocalists.
Born on 11 October 1928 in Šiauliai (Lithuania) he studied violin at the Lithuanian Academy of Music and Theatre with Professor Alexandras Livontas. As this teacher was a student of David Oistrakh, Sondeckis himself might be called a "musical grandson" of the famous Russian violinist. After his graduation and stages as teacher at the Juozas-Tallat-Kelpša Conservatory and the National Mikalojus-Konstantinas-Čiurlionis School of Arts in Vilnius he successfully completed his studies at the Moscow Conservatory. In 1960 he founded the Lithuanian Chamber Orchestra and worked there as artistic director and principal conductor until 2004. From 1963, he continued his education, studying conducting with Igor Markevich at the Moscow Conservatory. In 1977 he became professor at the Vilnius Conservatory. As of 1989 he was conducting the St. Petersburg State Hermitage (Camerata) and from 2005 the Kremerata Baltica Chamber Orchestra. Sondeckis was a member of the Herbert von Karajan Foundation in Berlin and was a coveted juror at many major international competitions, including Mozart in Salzburg, Tchaikovsky in Moscow and Toscanini in Parma. A honorary member of the Lithuanian Musicians' Union he is one of the most decorated characters in contemporary classical music in Lithuania, including People's Artist of the USSR (1980), Laureate of the USSR State Award (1987) and winner of the Lithuania National Award (1999). He died on 3 February 2016 in Vilnius where he is buried in the Antalkalnis Cemetery