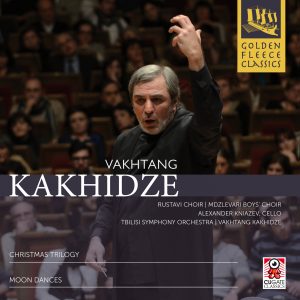 Facts & Figures
In 2000 Vakhtang Kakhidze, son of the legendary Georgian conductor Djansug Kakhidze and multi-talented as composer, conductor and pianist received a request from Switzerland to compose a musical praise on the occasion of the bimillenary of the birth of Jesus Christ. It came from the famous Swiss Army Brass Band, which needed something special for a tour across their country. So they actually commissioned the composer and in the same year Vakhtang Kakhidze accomplished "Glory Alleluia", "Elegy" and "Advent Suite" for men's and boy's choirs and brass band.
In 2003 he created a new version of these pieces for large symphony orchestra. It brought another intensity to the colour of sound, but he still kept the emphasis on the brass section sonority, which maintains and even enhances the solemnity of the whole musical layout. And eventually, as the three pieces are united by one entire idea, the composer now decided to give them a common name: Christmas Trilogy. And indeed the number 3 turns out to be more than just a digit – it is a kind of interface for the three movements as well as for the three living languages (Georgian, Russian and German), which are used in the lyrics, moreover for the three music groups, which perform the cycle, for the three vocal traditions in Christian liturgical singing and last but not least for the trinity, which the whole Trilogy is basically about.
Moon Dances was commissioned by the famous French cellist Emilia Baranovska and was written in 1994. The same year the premier took place in Paris. Legendary Georgian composer Giya Kancheli was a great admirer of this suite. He described Vakhtang Kakhidze's "vector of thinking" as singing, which he found perfectly well accomplished within this composition and concluded: "In small musical forms – multi movement suites, genre of musical miniature, songs – the so called "singing" origin turns into blessing. I would particularly like to emphasize that imperceptible "state of spirit" which we can so rarely feel on recordings (in contrast with live-performances). Moon Dances for cello and chamber orchestra is recorded tremendously. (…) Right here I feel that rarely achievable 'live breath' which I already mentioned before".
The present release launches a new recording series in Tbilisi, Georgia which will be presented under the newly designed Golden Fleece Classics Logo. The recording is carefully mastered by the prestigious Grammy award-winning b-sharp studio Berlin.
Liner notes in English.
Vakhtang Kakhidze was born into a family of musicians in 1959 in Tbilisi, Georgia. He began to study music when he was 6 years old as a pianist. In 1981 he graduated from the Moscow State Conservatory as a composer, and in 1983 he finished the post graduate courses at the same institute. His teachers were such famous musicians as Nikolai Sidelnikov – composition and Edison Denisov – the art of instrumentation. During 1988-89 he studied conducting with his father, the world famous Georgian conductor Djansug Kakhidze. From 1993 he worked as conductor of the Tbilisi Symphony Orchestra. In 2002, after the death of his father Djansug Vakhtang Kakhidze was appointed chief conductor of the Tbilisi Symphony Orchestra and Artistic Director of the Djansug Kakhidze Tbilisi Centre for Music & Culture. Also, he leads the annual International Music Festival "Autumn Tbilisi", which hosts famous musicians from all over the world. He performed with such well-known music ensembles as: Prague Symphony Orchestra, Symphony Orchestra "New Russia" (artistic director Yuri Bashmet), Beijing Symphony Orchestra, Jerusalem Symphony Orchestra, Kiev Symphony Orchestra, Paris Trinity Church Choir and Orchestra, Israel Chamber Orchestra, The Israel Camerata (Jerusalem), Ensemble del Arte (Germany), chamber orchestras "Moscow Soloists" and "Kremerata Baltica", vocal jazz groups "The Manhattan Transfer", "Take Six" and "New York Voices". As composer Vakhtang Kakhidze works in different musical genres. His pieces are performed in Moscow, Petersburg, Poland, Bulgaria, Slovakia, Hungary, Finland, UK, Greece, Spain, France, Italy, Germany, Switzerland, the Netherlands, Turkey, Israel, the USA and Japan. He is also an author of soundtracks for 20 films and more then 50 drama performances, several jazz compositions and pop songs.
Alexander Kniazev was born in 1961 in Moscow. He started to study cello at the age of six with Alexander Fedorchenko and continued his studies at the Moscow Conservatory during 1979- 1986. He also graduated from Nizhny Novgorod Conservatoire as an organist with the well-known Russian organist, Professor G. Kozlova. The enormous repertoire of Kniazev includes practically all compositions created for cello. He is not only performer, but also a professor of the Moscow State Conservatory. He regularly gives master classes in different countries of the world.