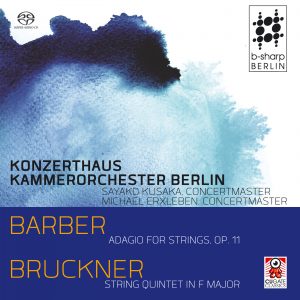 Facts & Figures
The slow movement in classical music has many names: adagio, andante, largo, and marcia funèbre are just some of the best known. What they all have in common is their function in the composition scheme – as a centre of calm in a dynamic environment of allegros, scherzi and prestos which forces the listener to pause for a while and to allow a moment of introspection and contemplation. The musical architecture requires that they are firmly anchored in this position and are, as such, an integral part of the work. The story of Samuel Barber's Adagio for Strings op.11 developed in a different way. Composed in 1936 it was originally created as the second movement, Molto Adagio, of the three-movement String Quartet op. 11. But in Rome Barber had a fateful encounter with Arturo Toscanini. Among the compositions that he showed him, Toscanini quickly recognised the extraordinary qualities of the middle movement and suggested that Barber orchestrate the Adagio as a standalone version for string orchestra. In New York on 5 November 1938, the conductor and the NBC Symphony Orchestra thanked the composer with a radio broadcast of the premiere of the work, thus launching a musical world success. The work very quickly became the most popular musical work for particular events. It was played at the funeral of US President Roosevelt, and of Albert Einstein, John F. Kennedy, Grace Kelly and Rainier III of Monaco. It was also broadcast on the radio on the anniversary of the attacks of 11 September 2001 and has served prominent directors including Oliver Stone (Platoon) and Steven Spielberg (Saving Private Ryan) as a musical basis for their anti-war films. In contrast, the Adagio in Anton Bruckner's String Quintet in F major, follows the traditional adagio role between a fast Scherzo and a lively, animated Finale and is as such rightly regarded as the centre of the whole musical work. Musical Vienna was unusually of one mind for once regarding Bruckner. All reviewers highlighted the Adagio. And even Bruckner's die-hard opponent Max Kalbeck from the newspaper "Die Presse" and an authority among critics gave it high praise: "The Adagio emanates light, light in thousands of colours and nuances – the reflection of an ecstatic vision reaching to the seventh heaven."
Cugate Classics proudly welcomes b-sharp, a fresh Berlin based label for classical music. It is a premium branch of the correspondent music production-company and recording studio, which has already made a name for itself with internationally acclaimed recordings of superior artistic and technical quality. Recent awards include 2 Grammys, 6 Echo-Classic awards, multiple Gold and Platinum awards and even two entries into the Guinness Book of World Records All b-sharp projects are produced as hybrid-SACD in Stereo and Surround- Sound and will be released as a discrete production-line by Cugate Classics.
The Konzerthaus Kammerorchester Berlin was founded by members of the Konzerthausorchester Berlin in 2009. The Konzerthausorchester enjoys a tradition going back 60 years, and has played under the direction of great chief conductors such as Kurt Sanderling, Claus Peter Flor, Eliahu Inbal and Lothar Zagrosek. Ivan Fischer was appointed chief conductor from the 2012/2013 season. The artistic director of the Konzerthaus Kammerorchester is Sayako Kusaka, 1st concertmaster of the Konzerthausorchester Berlin. One unusual feature of the Konzerthaus Kammerorchester is its aim to introduce an element of democracy into its organisation, so all members of the orchestra are involved in decisions such as the selection of the programme and the choice of soloist or conductor for particular works.
Sayako Kusaka was born in Hyogo in 1979. Studied in Tokyo with Takashi Shimizu, then in the USA with Eduard Schmieder, and in Freiburg with Rainer Kussmaul. Numerous competition awards include the first prize at the International Rodolfo Lipizer Violin Competition in Italy, the silver medal and the special prize for the best performance of a Caprice by Paganini at the Paganini Competition, 3rd prize at the Jean Sibelius Violin Competition in Finland and the top prize at the Michelangelo Abbado International Violin Competition. Extensive concert activities as a soloist, chamber musician and orchestra leader in Europe, Japan and the USA, plus radio and CD productions. Since 2008, Sayako Kusaka has been first concertmaster of the Konzerthausorchester Berlin. She plays a Giovanni Francesco Pressenda violin from 1822. In 2009, she was awarded the prestigious Idemitsu Music Prize. Michael Erxleben studied with Annemarie Dietze in Dresden, Michail Waiman in St. Petersburg, and with Werner Scholz in Berlin. His solo career has taken him to almost all European countries, Japan, China and the United States. He has performed as a guest soloist with such renowned orchestras as the Munich Philharmonic, the Berliner Philharmoniker, the Royal Concertgebouw Orchestra Amsterdam and has performed with conductors such as Sergiu Celibidache, Kurt Sanderling and Riccardo Chailly. His recordings include the violin concertos by Shostakovich, Schoenberg, Stravinsky, Hartmann and Martin as well as numerous other recordings with the Neue Berliner Kammerorchester, whose artistic director he was, together with Jac van Steen, until 2001. Michael Erxleben is 1st concertmaster of the Konzerthausorchester Berlin and a professor at the Academy of Music Hanns Eisler Berlin and at Berlin University of the Arts.