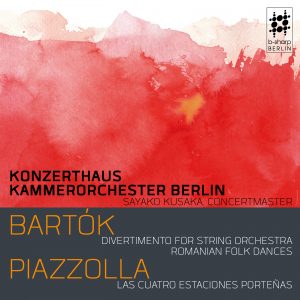 Facts & Figures
In the 1920s, Bartók was at the height of his fame as a leading composer of the modern age. But this great international response had only set in after the First World War. After a period of initial, well-received successes, Bartók, whose style became increasingly uncompromising and advanced, had been more or less ignored by home audiences and performances of his works were also rejected by his fellow artists. Bartók for his part rejected the prevailing spirit of the times and waited several years in a kind of inner exile. The Divertimento for String Orchestra was written in two weeks in Switzerland in the summer of 1939 – just before the outbreak of World War II – as a commissioned work for the Basel Chamber Orchestra and its legendary conductor Paul Sacher. In the virtuosic string writing, various solos are repeatedly interwoven which at times give this string symphony the character of a concerto grosso. In the Romanian Folk Dances Bartók brought together six original Romanian folk tunes which he had collected during a research trip to Transylvania in the summer of 1909 into an effective performance cycle of six minutes, every one of them used to their utmost in terms of contrast and tension. It was in Paris, paradoxically, where Astor Piazzolla began his studies with Nadia Boulanger in 1954, that he developed his personal and unmistakable style. Back in Argentine, he founded his own company in 1955 and began to find his expression in "Tango Nuevo" which, particularly in terms of form and compositional technique, combines elements of the classical European music tradition, Argentinian folklore and hints of jazz. The character pieces of Las Cuatro Estaciones Porteñas are a perfect example for this new music style.
Cugate Classics proudly welcomes b-sharp, a fresh Berlin based label for classical music. It is a premium branch of the correspondent music production-company and recording studio, which has already made a name for itself with internationally acclaimed recordings of superior artistic and technical quality. Recent awards include 2 Grammys, 6 Echo-Classic awards, multiple Gold and Platinum awards and even two entries into the Guinness Book of World Records. All b-sharp projects are produced as hybrid-SACD in Stereo and Surround-Sound and will be released as a discrete production-line by Cugate Classics.
The Konzerthaus Kammerorchester Berlin was founded by members of the Konzerthausorchester Berlin in 2009. The Konzerthausorchester enjoys a tradition going back 60 years, and has played under the direction of great chief conductors such as Kurt Sanderling, Claus Peter Flor, Eliahu Inbal and Lothar Zagrosek. Ivan Fischer was appointed chief conductor from the 2012/2013 season. The artistic director of the Konzerthaus Kammerorchester is Sayako Kusaka, 1st concertmaster of the Konzerthausorchester Berlin. One unusual feature of the Konzerthaus Kammerorchester is its aim to introduce an element of democracy into its organisation, so all members of the orchestra are involved in decisions such as the selection of the programme and the choice of soloist or conductor for particular works.